Kyoko Arita (born 1990) has been making artworks at Yellow (Izumisano, Osaka) since 2009. The motifs she draws include things from her daily life, seasonal things, as well as things she picks mischievously. She makes stipple drawings with these motifs and the stipples in her drawings have been getting finer over years. Not only the figures but also the backgrounds are carefully drawn with different colours. They are then stippled on top adding colour effects, creating complex and multilayered works. While Arita's highly densely works are achieved by her concentration and persistence, they possess a feminine warmth and a sense of humour reflecting the persona of the artist.
1990年生まれ。2009年よりYELLOW(泉佐野市)にて制作活動を行う。 ユーモアに溢れ作業所のムードメーカー的存在だが、作品制作に向かう際は驚くべき集中力を発揮する。描かれるモチーフは、身の回りのモノや季節のものの他に、悪戯心が現れたモチーフも登場する。それらを点描によって描くのだが、点描は年々細かになってきている。またモチーフ(図)だけでなく、背景(地)の色分けも工夫され、その上の点描による色彩効果が加わり、複雑で重層的な作品が生み出される。集中力と持続性によって生み出される高い密度の作品だか、どこか作家の人柄を映すような温かみとユーモアも兼ね備えている。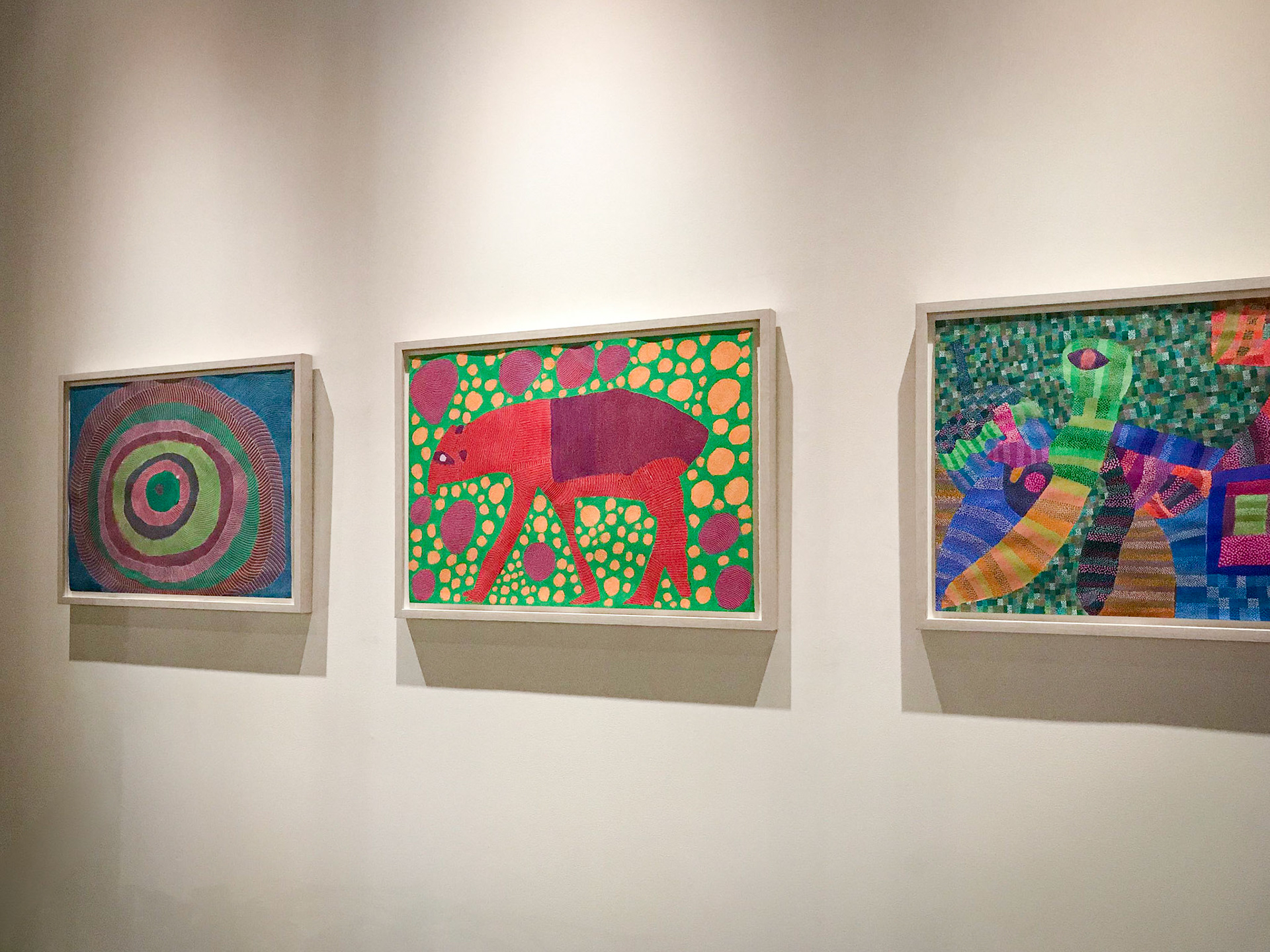 Since the opening in February 2009 they have been running business as atelier. From the beginning, they aimed to connect works with wages. Having 15 artists, Yellow's slogan is "With laughter, snores, a bit of laziness sometimes" and they provide a place for expressions every day.
2009年2月オープンよりアトリエをメインとした活動をおこなっています。当初より作品をとおして給料につなげることを目指してきました。約15名によるアトリエのスローガンは「わらいあり、いびきあり、たまに手抜きあり」となっておりまして、日々ゆるやかに表現の場を提供いたしております。
Capacious aims to introduce artworks produced by people with disabilities living in Osaka. We chose "capacious" as our project title, representing it through the symbolic image of a large bag with no compartments. We would like to take this project as an opportunity to re-consider the potential of art when experienced without the baggage of conventional trajectories defining contemporary art or limitations of language. We hope to build connections between two groups of people – the first one being artists, their families, and institutions they belong to; the second group will include art professionals and art patrons. We hope to cultivate new relationships among them, and encourage more people to collect artworks through our project.
大阪府内の障がいのあるアーティストの作品を現代美術のマーケットに紹介するプロジェクトです。カペイシャスを直訳すると、容量の大きい、包容力のあるという意味で、大きな仕切りのない袋をイメージしています。現代アートの歴史や言葉による縛りなど既成の枠組みを取り外し、作品を純粋に鑑賞することで広がる可能性を追求しています。作者やその関係者(施設の方やご家族等)と、美術関係者やアートファンのあいだを繋ぎ、新たに広げながら、作品が多くの方々にコレクションされることを目指して活動しています。