Born in 1978, Yumoto finds motifs in familiar things such as buildings, ships, bugs, and birds. These motifs are divided into colorful segments that multiply and fill the picture. His exhibitions are frequently held at galleries in New York and at art museums in Japan.
1978年生まれ。モチーフは建物、船、虫や鳥など身近な事物。その特徴を鋭い洞察力で観察し、画面に写し取る。色鉛筆で鮮やかに彩られた色面が、成長するように縦横に広がり未知なる世界を構築していく。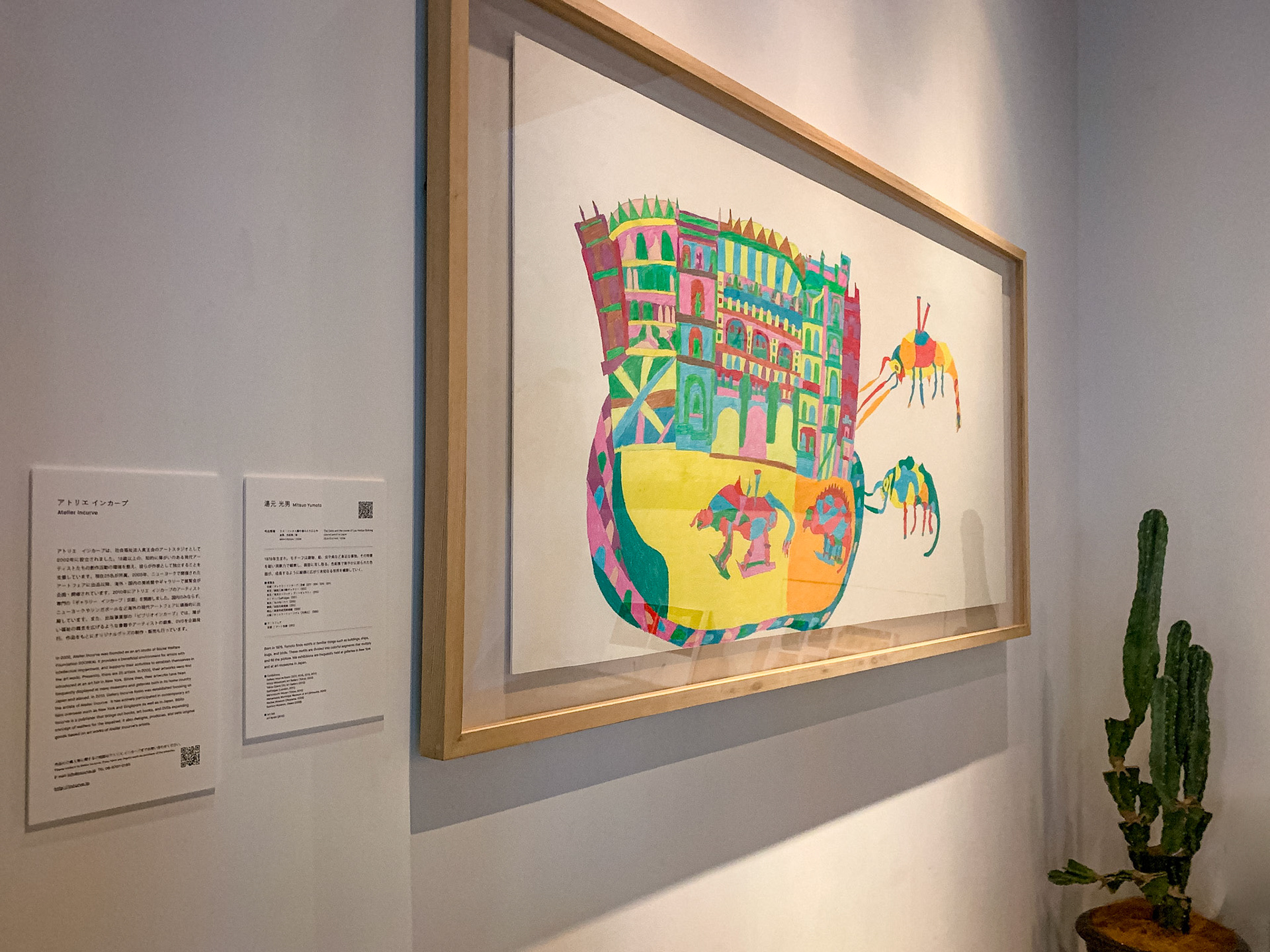 In 2002, Atelier Incurve was founded as an art studio of Social Welfare Foundation SOOHKAI. It provides a beneficial environment for artists with intellectual impairment, and supports their activities to establish themselves in the art world. Presently, there are 25 artists. In 2005, their artworks were first introduced at an art fair in New York. Since then, their artworks have been frequently displayed at many museums and galleries both in its home country Japan and abroad. In 2010, Gallery Incurve Kyoto was established focusing on the artists of Atelier Incurve.  It has actively participated in contemporary art fairs overseas such as New York and Singapore as well as in Japan. Biblio Incurve is a publisher that brings out books, art books, and DVDs expanding concept of welfare for the impaired. It also designs, produces, and sells original goods based on art works of Atelier Incurve's artists.
アトリエ インカーブは、社会福祉法人素王会のアートスタジオとして2002年に設立されました。18歳以上の、知的に障がいのある現代アーティストたちの創作活動の環境を整え、彼らが作家として独立することを支援しています。現在25名が所属。2005年、ニューヨークで開催されたアートフェアに出品以降、海外・国内の美術館やギャラリーで展覧会が企画・開催されています。2010年にアトリエ インカーブのアーティスト 専門の「ギャラリー インカーブ|京都」を開廊しました。国内のみならず、ニューヨークやシンガポールなど海外の現代アートフェアに積極的に出展しています。また、出版事業部の「ビブリオインカーブ」では、障がい福祉の概念を広げるような書籍やアーティストの画集、DVDを企画発行。作品をもとにオリジナルグッズの制作・販売も行っています。