Yoshiyasu Hirano (born 1980) has been making artworks at Yellow (Izumisano, Osaka) since it was founded in 2008. Hirano has two series of works: an animal series and a letter series. The animal series was created in his early years, ending around 2014. It has two types: one is dynamic compositional drawings with black color accents drawn with thick pens, the other is uniform length line drawings drawn with ballpoint pens and a ruler. The letter series is ongoing from around 2014 to present, in these works he carefully draws the letters he extracts from newspapers. He seems to grasp letters for their shapes rather than their meanings, but the extracted letters and the combinations of words reflect the topicality of newspapers and have an ironic expression. Upon making drawings, he uses the differences of pens' thickness and bleeding characteristics to creates unique and attractive typography. In 2018, he started to make the animal series again along with the letter series.
平野作品には2つのシリーズ、動物シリーズと文字シリーズがある。 動物シリーズは、初期~2014年頃に制作されたもので、太字のペンを使い黒のアクセントが効いた大胆な構図で迫るタイプと、ボールペンで定規を使ったように一定の長さの線で引いたタイプなどがある。 文字シリーズは、2014年頃~2018年現在まで継続しているもので、新聞から抽出した文字を丁寧に描いたものだ。作者は、文字を意味というより形態として捉えているようだが、抽出された文字や単語の組み合わせは、新聞という時事性を映し出しながら、アイロニックな表現を伴っている。 また描く際には、ペンの太さの違いや滲みの特徴を利用し、独特な魅力を持つタイポグラフィを生み出している。 2018年には文字シリーズに平行して、再び動物を描くようになってきた。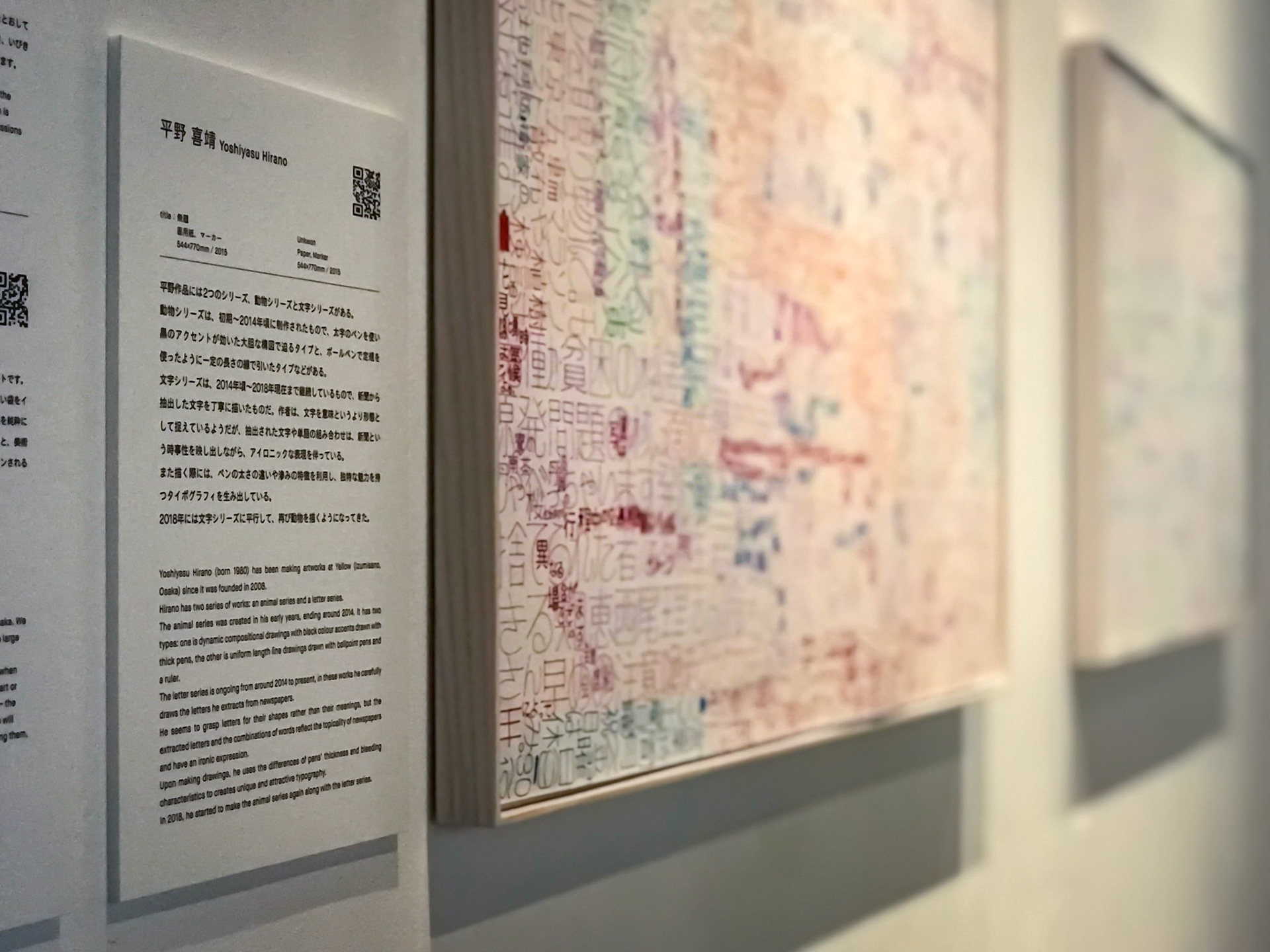 Since the opening in February 2009 they have been running business as atelier. From the beginning, they aimed to connect works with wages. Having 15 artists, Yellow's slogan is "With laughter, snores, a bit of laziness sometimes" and they provide a place for expressions every day.
2009年2月オープンよりアトリエをメインとした活動をおこなっています。当初より作品をとおして給料につなげることを目指してきました。約15名によるアトリエのスローガンは「わらいあり、いびきあり、たまに手抜きあり」となっておりまして、日々ゆるやかに表現の場を提供いたしております。
Capacious aims to introduce artworks produced by people with disabilities living in Osaka. We chose "capacious" as our project title, representing it through the symbolic image of a large bag with no compartments. We would like to take this project as an opportunity to re-consider the potential of art when experienced without the baggage of conventional trajectories defining contemporary art or limitations of language. We hope to build connections between two groups of people – the first one being artists, their families, and institutions they belong to; the second group will include art professionals and art patrons. We hope to cultivate new relationships among them, and encourage more people to collect artworks through our project.
大阪府内の障がいのあるアーティストの作品を現代美術のマーケットに紹介するプロジェクトです。カペイシャスを直訳すると、容量の大きい、包容力のあるという意味で、大きな仕切りのない袋をイメージしています。現代アートの歴史や言葉による縛りなど既成の枠組みを取り外し、作品を純粋に鑑賞することで広がる可能性を追求しています。作者やその関係者(施設の方やご家族等)と、美術関係者やアートファンのあいだを繋ぎ、新たに広げながら、作品が多くの方々にコレクションされることを目指して活動しています。